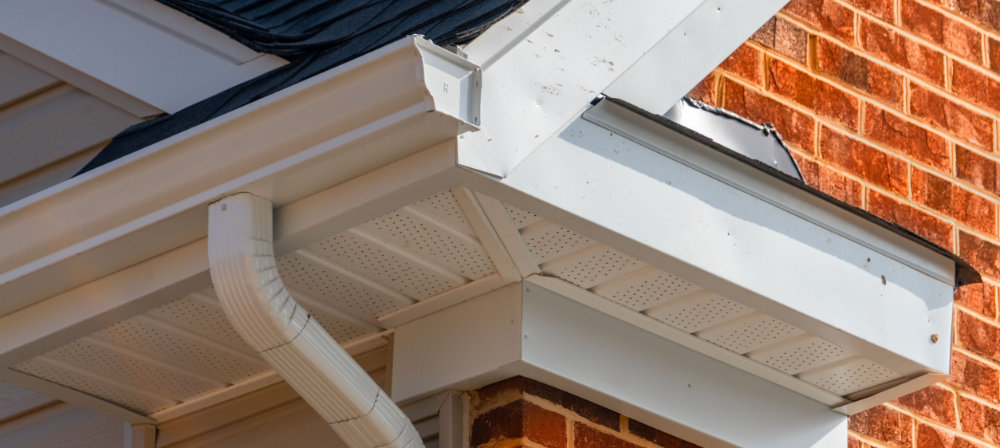 If the fascia or soffits near your roof are damaged or in need of repair, contact Eastbrook Construction today. At Eastbrook Construction, we have been serving Brighton and the surrounding areas for decades. From a new roof to just repairs we can handle it all. If your roof has become damaged over the winter, now is a great time to get an estimate on your repairs.
What Is A Fascia?
A roofing fascia is a finished edge that covers the connection between the roof and the rafters of your home.  In addition, fascia is usually made of wood or non-corrosive steel. The gutters are usually attached to the fascia. It is designed to prevent to protect the siding and the wooden rafters. Also, it blocks snow, rain, sleet, and other weather from damaging. If your home was built after 1950 then most likely you have them. Much older homes do not.
Fascia Damage
The fascia can become damaged over time being that it is withstanding weather conditions all year long. It can have wet or dry rot or slowly deteriorate from the sun.  Also, if spikes in your energy bills occur, it could be because they are damaged. In addition, once they are damaged call the professionals at Eastbrook Construction to make the repair.
Soffits
Another important factor when it comes to your roof is soffits. Soffits are used for that area where your roof overextends the walls of your house.  That space is sometimes known as the overhang or the rafters. The soffit is a piece of finishing material that covers the area. The main purpose of a soffit is ventilation.  They help reduce heat during the summer with proper airflow. If you do not have proper airflow, mold and mildew could build up in your attic.
Finally, with a free roof inspection from Eastbrook Construction, we can let you know if your fascia or soffits are in need of repair. Contact us today!