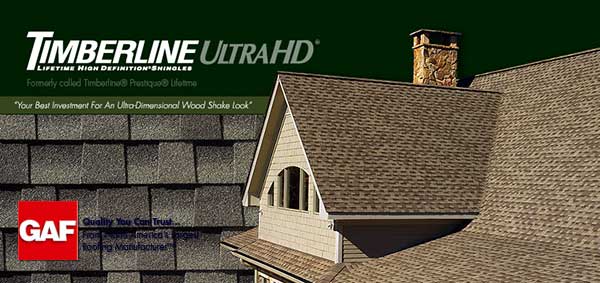 At Eastbrook Construction we have been installing professional GAF shingles for decades. GAF roofing shingles are some of the best roofing shingles on the market today. Our expert roofing installers have extensive experience with these shingles, and highly recommend them for your next roofing job.
GAF Shingles Options
GAF has a large selection of roofing shingles to choose from. The Timberline options offer the Ultra HD, American Harvest, Timberline HD, Natural Shadow, and Cool Series roofing shingles. There are quite a few benefits of using GAF roofing shingles. Some of those benefits are resale value, lasting appeal, variety, and also the warranty.
When choosing GAF shingles, one of the best features is the resale value. Having a new roof installed with GAF timberline shingles will increase the resale value of your home. In addition, GAF is one of the top-selling brands in the country and is widely recognized as the industries best. Resale value is great, but they also add a long-lasting appeal to your home. You can rest assured that your roof will look great for decades to come with GAF shingles.
With so many choices of looks and colors, it will be hard for you to decide. GAF shingles come in pewter gray, patriot red, weathered wood, and many other options.  The warranty is another great benefit of GAF roofing shingles. Of course, with all these great benefits, you should first discuss your roofing options with the experts at Eastbrook Construction. Our roofing experts can explain the warranties and the options you have for a new roof.
From severe weather to just overall wear and tear, your roof starts to deteriorate. When your roof needs repairs or a full replacement, call Eastbrook Construction at 248-877-9247. We have been serving all of Brighton and the surrounding areas. From new construction to older homes, we can help you. Contact us today!