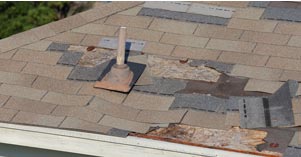 They say that April showers bring May flowers, but often April brings storms with high winds that cause roof damage. Wind damage can cause all kinds of problems for a homeowner, roof repair being one of them. If your roof has sustained damage after that last strong storm and you're putting off repairs, you'll be paying in the long run.
Wind damaged roofs will let in moisture that can cause additional damage and mold, which no homeowner wants. Repairing your damaged roof is best left to professionals so the next big storm that rolls in won't take your roof with it.
Wind damage to roof shingles
Wind damage can affect your roof in a few ways. One is through damaging your shingles or shingle flying off your roof and the other is by way structural damage. When high winds meet poor craftsmanship shingle damage appears. Most cheap roofing contractors will use staples, or they nailed them too high on the shingle lessening the traction. In high winds the lack of traction causes the shingles loosen up and fly/fall off your roof.
Unless you have your homeowners insurance to pay for a new roof, you will probably need some patch work done. That's where we come in!
We here at Eastbrook Construction have been repairing wind-damaged roofs and shingles for 20  years and know how to keep your home looking nice. We make sure our work stands the test of time, which is why we not only retail your shingles but we will also use an adhesive to make sure they won't move. Double protection against any future storms with strong gusty winds.
We will do our best to match your shingles, but be aware that fading from the sun does happen. If we can't match the color we will still help your homes curb appeal. What we tend to do is take shingles from another part of the roof and replace them from the visible areas. So your home can still look great, even though you have sustained wind damage.
Structural Damage
Wind damage can also happen when debris from trees, power lines, and other things can cause structural damage to your roof. These issues should be repaired as quickly as possible to prevent additional damage to your roof. We here at Eastbrook construction can repair and replace rafters, roof sheathing, and any underlayment that has been damaged.
We work with many insurance companies to help repair your roof. So contact us today and get your quote on your roof repair!