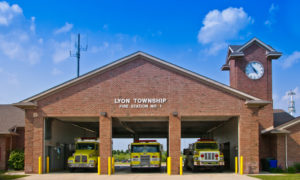 Lyon Township is one of the fasting growing communities in the Metro Brighton and Novi area. Also, this little township has quickly become known as a family-friendly community with a good school and a thriving business district. Located between Brighton and Novi, Lyon Township has easy access to I-96 and is close to US-23 and I-275. Lyon Township has become a community hub in Southeastern Michigan and has been adding new homes constantly.
No matter how you slice it this area is a great local community for families and businesses. Even in adjacent and growing communities, the need for trustworthy local roofing contractors in South Lyon is growing. Thankfully the award-winning local roofing company Eastbrook Construction can service all of Lyon Township and the greater Southeastern Michigan. See our credentials and you'll see why time and time again people choose Eastbrook Construction as their go-to local roof repair and replacement company.
Servicing Local Home Owners In South Lyon
If you are a local contractor or local homeowner in need of a local roofing contractor in South Lyon, look no further. Here at Eastbrook Construction, we work with everyone from homeowners, housing contractors, to local business owners and everyone in between. Also, we can help repair, replace, and inspect any roof. Simply contact us with details of the job you need on our contact form and we'll get in touch.
At Eastbrook Construction our goal is to give you the best roofing contractor experience you expect from an award-winning company. In addition, we take pride in our work and strive to give you a roof that you can depend on for years to come. Easterbrook Construction is one of the leaders in roofing construction.
Finally, if you need a roof repair, a local roof inspector, or roof replacement, we can help! Contact us here at Eastbrook Construction. You won't regret it!
Rev. update Aug 25 2020