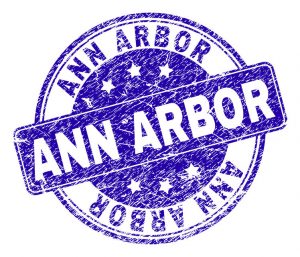 We love working in Ann Arbor. The historic homes are so diverse as are the people, the businesses, and of course U of M. As a roofing contractor working in Ann Arbor it does present challenges, however.  With some homes being historic, you find a lot of steep inclines, two and three-story homes, gables, and older construction of course.
Many of the homes we've done roofing for in Ann Arbor require a wider variety of roof types, shingles, and shingle colors to match the architecture as well. These are not the only types of homes of course. As you move out from the more historic district, you find newer neighborhoods, apartments, and condominiums.
Roof Repair or Replacement?
Let's say you have a historic home of which there are many, and you have a leak(s). What should you do? It's pretty simple, call Eastbrook for a free roof inspection. If you're not sure where the leak is actually coming from, we'll find that out first. It could be from a skylight, roof vent, window, siding, gutters, or trim gap (we've some pretty interesting things).
If you have a newer roof say, under 10 years old, then it'll be pretty straightforward, you'll want roof repair to fix the leak. If the roof is between 15 and 20 years, then a lot depends on the type of roof, prior repairs, or initial roof installation. Again, we'll be doing a complete inspection and discuss all these aspects before recommending a new roof installation.
Was There Storm, Wind, or Hail Damage?
Let's face it the weather in Michigan, especially in the spring, can be very unpredictable. Combine that with the many tree-lined streets in historic Ann Arbor, there is potential for quite a bit of roof damage from storms. As a roofing contractor near Ann Arbor, we get quite a bit of call to inspect, repair, and replace roofing based on fallen trees, wind, and even hail storms.
If you've experienced any of these, please contact us or give us a call. Under these conditions, you may require emergency roof repair to prevent further damage both to your roof and inside your home. You probably won't need or want your roof to be replaced under these circumstances (unless it was older or severely damaged).
Insurance Repairs by Ann Arbor Roofing Company
Eastbrook Roofing contractors do insurance work quite often. We'll work with you and your home insurance company starting with roof inspection and repair or replacement estimates. With Eastbrook providing Ann Arbor roofing services, you'll have professionals using the highest quality materials protecting the value of your home.