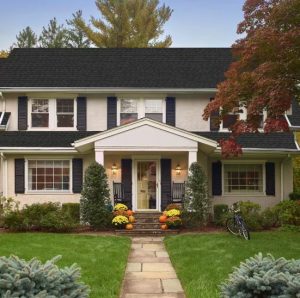 When it comes to roofing materials, Timberline shingles are always a popular choice!
For decades, Eastbrook Construction has been installing high-quality, professional GAF shingles. GAF has a large selection of shingles available. However, one of the most popular shingles is, without a doubt, Timberline HDZ. However, what makes this material so appealing to homeowners?
GAF Shingles
First of all, one of the reasons why Timberline is so appealing is produced by GAF. When you purchase any shingles from this company, you are getting the entire system when installing a roof. Many contractors use GAF because the company gives them six material components that will provide layers of protection that work together to keep your home safe. Not only do you get shingles, but also:
Cobra Attic Ventilation/Ridge Vent
Deck Armor
Starter Strip Shingles
Weather Watch Leak Barrier
Ridge Cap Shingles 
Furthermore, GAF guarantees decades of longevity. But, where does the Timberline HDZ come into this system?
Timberline HDZ
If you are looking for a long-lasting roof, then you should be using Timberline HDZ. According to GAF, this shingle is America's best-selling roof shingle. Timberline HDZ's material is comprised of fiberglass asphalt, but with a wood-shake look. Just like other GAF Shingles, Timberline HDZ has anti-staining and algae protection to keep the integrity of the roof.
In addition, it has amazing wind resistance. Our customers love the HDZ shingles because the material's coloration is vibrant and adds a level of refinement to a home. The Timberline HDZ has been awarded from Good Housekeeping. These shingles come in 20 different colors, allowing homeowners to select from a variety of options. Contact Eastbrook to see what options you have for the roof!
---
Want to see the full line of Timberline HDZ? Click here!