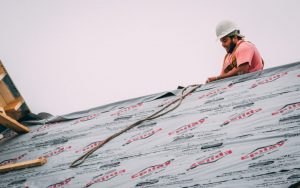 Roofing underlayment is a waterproof barrier installed directly to the roof deck. This layer is applied to the roof to protect the structure from severe weather and water damage. Peel and Stick is a unique type of underlayment that uses adhesive instead of nails during installation.
How Peel and Stick Benefits Your Roof
-Easier to Install
Peel and Stick is easier than asphalt-saturated felt and rubberized asphalt underlayment to install. When installing this material, no nails are required due to the adhesive. Also, labor is minimized since the underlayment sticks to the roof deck immediately when applied. This both lessens the risk of injury for the contractors and the risk of human error.
-Flexible Material
Due to Peel and Stick being made of a fiberglass material with an adhesive membrane, it is very flexible. Fiberglass is much more flexible than other types of asphalt underlayment. This in turn allows the underlayment to stay in a better condition for longer periods of time. Synthetic underlayment types have been shown to have longer lifetimes than their asphalt counterparts.
-Extremely Strong
The Peel and Stick material offers the best protection against shingle damage caused by storms. Moreover, the fiberglass material holds very little risk of cracking which makes it extremely popular in areas of harsh storms and high winds. If you are located in an area with frequent poor weather conditions, Peel and Stick is the underlayment you should invest in.
Here at Eastbrook Construction, we have decades of experience in roof repair and damage restoration. If you are looking for a company to build your new roof, choose Eastbrook Construction! We can build your roof and apply the strong and waterproof Peel and Stick underlayment. Call us today at 248-877-9247 or use our contact form. We look forward to hearing from you.