When starting a construction project, it is important to know the laws of your district. Different counties and townships have different rules and regulations when it comes to construction. Because of this, it is important to know about the laws of your local Building Department. Each area is unique, including Commerce Township.
About Commerce Township
Commerce Township is a charter of Oakland County in Michigan. Located northwest of Detriot, it is a suburb that originally settled as a resort destination. However, that changed with an increase in permanent residences. Because of the recreational areas and the rural environment, the township became an ideal place to live. Especially since it contains numerous lakes.
Another thing to note is that all new construction requires a building permit. According to the Commerce Township Building Department, any structural modifications and construction require a permit. That also includes when you are installing or repairing a roof. On top of that, you need to have inspections afterward. This can be a lot, especially for people who are inexperienced. However, if the homeowner hires a contractor, the process becomes a lot easier.
Roofing Contractors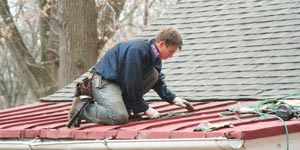 First of all, the responsibility for the permit goes to the contractor. This is because the Building Department has no jurisdiction over the contractor if the homeowner applies for it. This means that your contractor is responsible for making sure your construction falls under Commerce Township's community codes. The contractor also has to schedule the inspections for your project.
Furthermore, contractors have the experience. Regardless of how much someone studies roofing, nothing beats personal experience. Professionals have hours of hands-on experience and would know what material you need. A roofing contractors' skills help prevent you from making mistakes. Like damaging your roof while trying to fix it or buying too much material.
Roofing contractors can save you time and prevent you from hurting yourself. As a homeowner, it makes sense to hire a contractor. Problem is, who do you hire? After all, you need a licensed professional, who can secure what you need to start your home improvement project. When it comes down to it, you can trust the people at Eastbrook Construction for your roofing needs.
Trust Eastbrook Construction

Eastbrook Construction is licensed and insured with a team of professionals dedicated to customer service. For over 20 years, we have been providing roofing services in Brighton and the surrounding area. We specialize in new construction and damage restoration, meaning you can trust us with your roofing needs. We will help you decide what shingles your roof needs to make sure it lasts. In addition, we will help your budget and advise you on what you need. Our professional roofing services come with a 10-year guarantee on labor and a lifetime warranty on all materials.
Most of all, Eastbrook Construction is here to help you through the entire process.
Contact us today and get your free estimate!