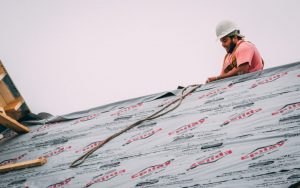 Trying to find the best roof repair service can be challenging. There are plenty of companies out there claiming they have the best repair services. However, all of them will fall flat compared to Eastbrook Construction. Eastbrook promises high-quality work at the hands of professional roofers
The best roof repair company will be able to handle all types of damage and repairs. However, what type of damage can your roof endure over its lifetime?
Roof Damage
Did you know that the average lifespan of a roof is 30 years? However, it is impossible for a roof to reach the extent of a lifetime without some tender love and care. That means giving your roof a proper inspection and regular maintenance. Keeping an eye out for any problems can prevent long-term issues.
One of our clients learned that the hard way after they ignored signs of critters trying to get under their roof shingles. During the winter, animals try to get out of the cold by any means necessary. One of the ways that these critters like to stay warm is to get into your roof. Usually, animals will try to enter your roof/attic through soffits or soffit vents. These tiny animals are willing to bend the material around to squeeze inside. Although our clients saw this damage, they did not understand the indications till the animals started making scratches and holes in the roof itself.
However, there are plenty of ways for your roof to get damaged. Some other damages that your roof can have are:
Moisture Damage
Punctures and Cracks
Loose/Broken Shingles
Worn-Down Roofing Materials
Structural Damage
With a variety of ways that your roof can get roughed up, but there are plenty of ways to fix it up as well.
Types of Roof Repairs
In order to keep your roof in tip-top shape, you need to repair any damage to your roof in a timely manner. But, what are the most common repairs that a roof will need? Some roof repairs that every roofing company should be able to do are:
Shingle/Tile Replacement
Fascia Replacement
Draining Standing Water
Leak Repair
Flashing Repair
Any roofing company should be able to handle these repairs. But people do not want just any roofer. Homeowners want the best roofers working on their homes. Fortunately, you have found the best!
Contact Eastbrook Construction Today!
If you are typing in "roofing contractors near me" or "independent roofers near me" into your search engine then you must have never contacted Eastbrook Construction. Eastbrook is the best roof repair company in Howell, however, our services extend to neighboring communities like Brighton and Ann Arbor.
Our company's professional team is full of licensed roofing contractors that capable of handling all types of repairs. Not to mention, we are affordable roofers! Get a free roof inspection to see what Eastbrook Construction can do for your home.